Carvings from the Veldt - by Dave George - Second Release Book 2
ISBN: 978-0-646-55101-2
Exceptional interest in Part One of 'Carvings from the Veldt' has uncovered many additional carved weapons and much encouragement to embark upon a second 'follow-on' edition. The new book features 306 new firearms: rifles, carbines and handguns used by both sides, the Boers as well as British and Colonial soldiers.
The hard covered book contains over 1,400 images (most of which are in colour) of carved and engraved weapons. In addition there are a further 25 farm maps, official forms and letters etc. There is also a selection of swords, bayonets, bandoliers, ammunition, medals, a large variety of unit badges and headgear worn by both sides. Included are two new chapters covering Anglo-Boer War re-enactor groups (in six countries) and Anglo-Boer war trench-art and carvings. (such as pipes and mementos carved in Boer POW camps.)
The service histories of Boers and soldiers are researched along with many previously unpublished original photos of groups of Boers and soldiers. Amongst the Boer weapons are four carved rifles that were used by famous Boer Generals. Also featured are 70 weapons that were used or souvenired by British and Colonial officers and troops (British, Canadians, Australians, South Africans and New Zealanders). This book is guaranteed to be of interest to a wide variety of collectors and military historians. The book is A4 size, hard cover and has 349 pages.

"PHOTOS" For a selection of photos from my books, please look at the
THE GALLERY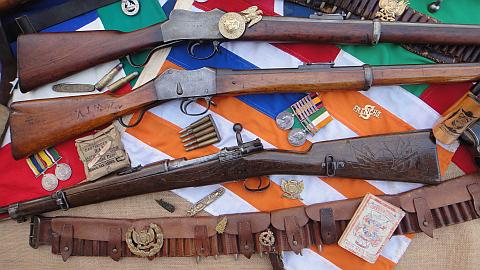 Price Aud $70.00 PLUS postage if ordered DIRECT from the Author.
Add $15:00 postage for two books to all states in Australia.
I will supply postage prices for 3 or more books on request.
For all payment options and International orders contact author for direct payment or PAYPAL. Refer "Contact Us" Page.
Your Conscript Number


---